300 YEARS OF HART KERAMIK
With the success story of the glass bottle in the 19th century leading to the decline in importance of products made of stoneware on the market, the needs of the moment called for the courage to take risks. Anton Hart, grandfather of the current company boss Anton Wolfgang Hart, recognized the signs of the times and, without further ado, switched his factory in Neukinsberg near Cheb over to other ceramic products.
Since 1884, Hart Keramik has been making machine-produced clay pipes, bricks and tiles and refractory clay products. In 1934, Anton Johann Hart, son of the company founder, took over the business from his father as company heir. However, the war years and the displacement of Germans from the Egerland region brought his business to an abrupt end. Despite this hard stroke of fate, the courage to make a fresh start was called for once again to ensure that the family-run company survived after all.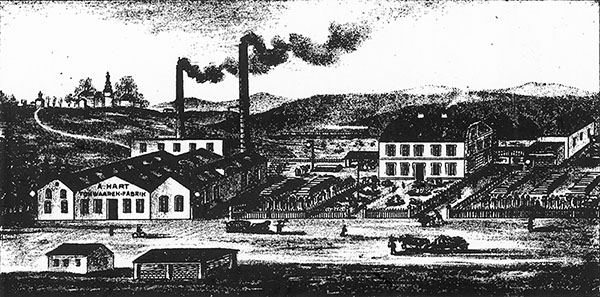 Clay plant HART in Neukinsberg in 1904
300 years of HART Keramik at one glance
| | |
| --- | --- |
| 1700 | Flasking in Kinsberg | 1970 | PORTON Bricks |
| 1845 | Plumber's hut Marienbad | 1978 | Internationalisation |
| 1870 | Clay factory Anton Hart | 1981 | Hafner fireclay |
| 1892 | Gold medla of the city Eger | 1994 | PORTON plant Schirnding II |
| 1905 | 1. Stoneware factory Anton Hart | 2001 | Plank brick generation |
| 1926 | Branch office Eger | 2008 | W3G MULTIkeram |
| 1947 | Brick factory Waldsassen | 2011 | Plant III Schirnding |
| 1956 | Brick factory Schirnding | 2014 | Clay building board LEMIX® |
| 1968 | Fireclay chimneys | 2017 | Clay building board LEMIX® 2.0 |
More than 80 years – Plant Waldsassen
The current administration site in Waldsassen began as Ziegelwerk Waldsassen AG in 1928. The emerging economic miracle delivered strong growth and economic recovery. The brick and clay works in Schirnding was incorporated into the company and the first modern tunnel kiln was soon put into operation in Waldsassen.
The drive to be the technology leader and the focus on the development of new products and sales activities ensured that the company enjoyed continued success. In 1977, the current company boss, Anton Wolfgang Hart, joined the business as executive officer and was appointed to the position of CEO one year later. True to the entrepreneurial virtues of his predecessors, he has been responsible right up to the present day for a host of new technological developments, key product innovations and bold investments in the future.
New products have been added. One example includes the modern ceramic flue liner systems for chimneys, which were developed with a particular focus on eco-friendliness and energy saving. Or the development and production in recent years of clay building boards, with which HART KERAMIK has become the market leader in Germany.
Today, HART Keramik AG's production is concentrated exclusively in the four plants in Schirnding.