SITES WALDSASSEN & SCHIRNDING
Production sites
The plant in Waldsassen is considered to have been the nucleus for the economic rise of the company after the Second World War. Originally, the whole range of HART ceramic products was produced there. The economic miracle of the 1950s soon made an expansion of capacities necessary, however.
With the acquisition of the Schirnding brick works and the construction of the new production facility for Poroton bricks (Plant II) in the early 1990s, brick production was relocated to Schirnding. The original Plant I in Schirnding was strategically switched to the efficient production of ceramic flue liners in the 1980s.
The Waldsassen plant, on the other hand, was rigorously geared towards the production not just of ceramic flue liners, but accessories, firebricks for stove building, engineering bricks, radial engineering bricks for industrial chimneys and custom ceramic products such as special shaped engineering bricks. In 2010, however, the company decided, on the basis of environmental and energy policy considerations, to build a new Plant III involving the relocation of production from Waldsassen to Schirnding. This brought all the production units together at a single location for the first time.
State-of-the-art production engineering has ensured consistently high quality over many years and enables HART Keramik AG to keep pace with the latest new technical developments in the industry at all times.
In addition to product quality, protection of the environment is also a very high priority for HART Keramik AG:
A flue gas cleaning plant which is outside the kilns and a connected fluorine absorber provide the guarantee that emission values are well within statutory requirements.
Furthermore, comprehensive re-naturalization measures continue to this day to ensure that the preconditions for returning former clay and loam extraction sites to unspoiled natural landscapes are put in place – this reconciles economic and ecological concerns and forms an integral part of our company philosophy.
Future-oriented technology was also introduced to the modernized Plant I in Schirnding in the mid-1990s, where the bulk of the ceramic chimney flue liners are manufactured today.
The ceramic flue liner production line, which was redesigned in 1995, provides the basis for the production of ceramic spigot & socket liners for the discharge of exhaust gas associated with modern heating system technology using condensing appliances.
Production at Plant II is now limited to just ceramic outer walls for system chimneys. In this connection a new, future-oriented product has been added in recent years in the form of the LEMIX® clay building board, which has quickly made HART Keramik AG the market leader in clay building boards in Germany. The LEMIX® clay building board is the first clay building board to be manufactured industrially in Germany. An innovative new production facility was constructed in the newly built Plant IV for this product.
Maintenance Waldsassen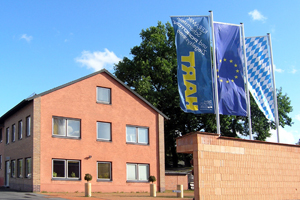 95652 Waldsassen
Anton-Hart-Straße 1
Telephone: +49 (0) 9632 848-0
Telefax: +49 (0) 9632 848-48
E-Mail: info[at]hart-keramik.de
Plants Schirnding
95706 Schirnding/Ofr.
Am Bergwerk 12
Telephone: +49 (0) 9233 7714-0
Telefax: +49 (0) 9233 7714-14
Production of:
Plant 1
– Ceramic flue liners
Plant 2
– Ceramic outer walls
Plant 3
– Firebriks
– Ceramic accessories
Plant 4
– LEMIX clay building boards